Many sisters who are wondering how to keep natural hair from drying out don't realize that you can't moisturize your hair without water. In fact, you may already use a range of natural hair products and conditioners in attempts to moisturize your hair, but a true moisturizer will have water listed as one of the first two ingredients. 
That's where Fro Butter natural hair growth, styling and health-booster products win the long game versus the big cookie-cutter brands.
For example...
In the best-seller Puddin Cup - Leave In Or Rinse Out Conditioner, water/agua is the 1st ingredient listed. Knowing how to properly moisturize natural hair requires knowledge of the best natural ingredients. If your product contains much other than water, it simply isn't moisturizing your hair.
Keep your natural hair from drying by using Fro Butter's delicious smelling Puddin Cup products as a Leave-in or rinse out conditioner.
No more worrying about how to properly moisturize natural hair because this Black-owned natural hair product serves as the ultimate frizz fighter and moisturizer for wavy, curly, tight curly or transitioning natural hair. It leaves your kinks and curls super soft and uber shiny without any oily buildup. 
This amazing Black-owned natural hair product leaves natural hair smelling scrumptious while it coats your natural curls and luscious locks in an extra layer of moisture protection. These ingredients are KEY for how to keep natural hair from drying out.
Formulated with Coconut Oil and Aloe for its moisturizing properties Puddin' Cup is a must have in your hair regimen. Great for: Wavy, curly, kinky, color treated hair and transitioning hair.
For those learning how to properly moisturize natural hairstyles, this will keep your Twist Outs, Braid Outs, Wash N Go's, loose fros and more from drying out! Lastly, don't forget the healthy habit of spraying water on natural hair daily. Your hair hydration and moisturization levels will give birth to your most brilliant-looking hair ever!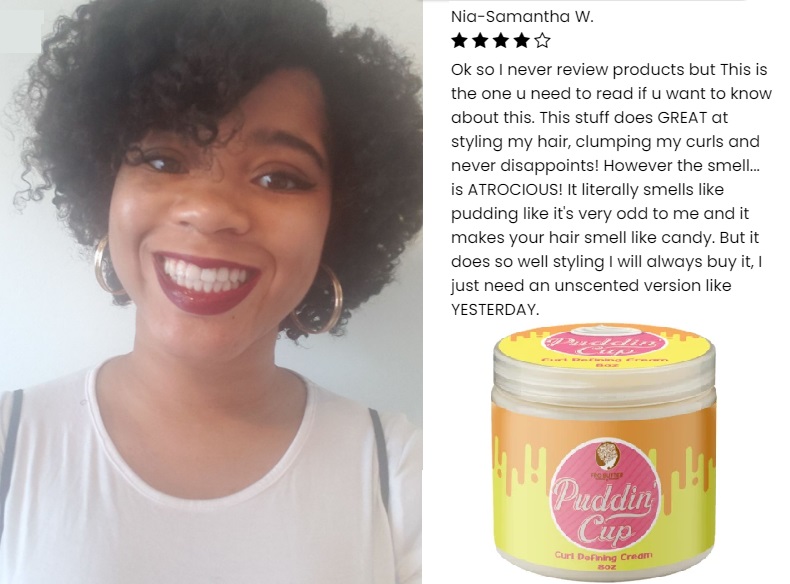 1 Response
Leave a comment
Comments will be approved before showing up.